Are you confused by what self-directed support is? We can help.
PCS Model of Providing Self-Directed Services
Our Support Brokers who have more than 200 years combined experience in Self-Directed Services (SDS). Several of these brokers played a part in the SDS pilot in Dane County. They have also been instrumental in the construction, development and refinement of Dane County's SDS system.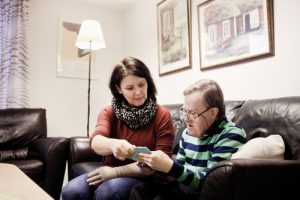 Current PCS staff are well-trained on various styles of Person-Centered Planning as well as and assisting people in developing their outcomes. Each of our brokers been trained in Asset-Based Community Development (ABCD) and has successfully used this concept to assist participants in developing creative plans that have resulted in people achieving their outcomes.
PCS works cooperatively with the entire Dane County network of residential and vocational providers as well as state and local advocacy groups. We work hard for the participants we support as well as being an involved provider who works to improve the system as a whole.
The six domains of self-direction are an integral part of the work of the PCS IRIS Consultants (ICs). Learn more about the Six Domains of Self-Direction here.