IRIS stands for:
INCLUDE – Wisconsin frail elders, adults with physical disabilities and adults with intellectual/developmental disabilities with long term care needs who are Medicaid eligible are included and stay connected to their communities.
RESPECT – Participants choose their living setting, their relationships, their work, and their participation in the community.
I SELF-DIRECT – IRIS is a self-directed long term care option. The participant manages an Individual Services and Supports Plan within an individual budget and the guidelines of allowable supports and services to meet his or her long term care needs. The participant has the flexibility to design a cost-effective and personal plan.
People who choose IRIS design a waiver-allowable Individual Services and Supports Plan to meets their functional, vocational, and social long term care needs. Wisconsin has Medicaid Home and Community Based Services waivers 1915(c) and the Self-Directed Personal Care State Plan Amendment 1915(j) approved by The Centers for Medicare and Medicaid Services. These CMS approved applications define the types of services and goods included in the IRIS program.
Persons enrolled in IRIS manage their services to meet their long term care needs. They use IRIS-funded, waiver eligible supports and services to remain in the community and avoid institutional care. IRIS program participants are supported in self-direction by IRIS Consultants and Fiscal Employer Agents.
PCS Model of Providing Self-Directed Services
PCS IRIS Consultants have more than 300 years combined experience in Self-Directed Services (SDS). PCS was instrumental in the construction, development and refinement of Dane County's SDS system. Current PCS staff are well trained on various styles of Person Centered Planning, assisting people in developing their outcomes, and Asset-Based Community Development (ABCD) which has successfully used this concept to assist participants in developing creative plans that have resulted in people achieving their outcomes.
PCS works cooperatively with the entire Dane County network of residential and vocational providers as well as state and local advocacy groups. We work hard for the participants we support as well as being an involved provider who works to improve the system as a whole.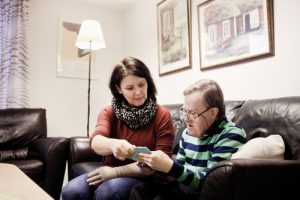 The six domains of self-direction are an integral part of the work of the PCS IRIS Consultants (ICs). Learn more about the Six Domains of Self-Direction here.
The IRIS Program is a Medicaid Home and Community-Based Services (HCBS) waiver for self-directed long-term supports. The program is an option for adults with long term care needs. The Wisconsin Department of Health Services, Division of Medicaid Services (DMS) under the authorization of the Centers for Medicaid and Medicare Services (CMS) is responsible for oversight of the IRIS program. IRIS is available to Wisconsin residents determined financially eligible for Medicaid, functionally in need of nursing home or Intermediate Care Facility for Individuals with Intellectual Disabilities (ICF/IID) level of care. People who are eligible have the choice of IRIS or managed care through their local Aging and Disability Resource Center (ADRC)
DHS Address:
Division of Medicaid Services
IRIS Program
1 West Wilson, P.O. Box 309
Madison, WI 53707-0309
DHSIRIS@dhs.wisconsin
Aging Disability Resource Center- Dane County's mission is to support seniors, adults with disabilities, their families, and their caregivers by providing useful information, assistance, and education on community services and long-term care options while serving as the single entry point for publicly-funded long-term care services while at all times respecting the rights, dignity, and preference of the individual.
2865 N Sherman Ave
Madison, WI 53704
Business hours: Monday – Friday 7:45am-4:30pm
Toll-Free: 855-417-6892
Phone: 608-240-7400
Fax: 608-240-7401
ADRC@countyofdane.com